Thanks to IT technology, you can start the business in foreign countries only by having your web site . Comunica assists you to build the web site in different languages, or translate your current web site into the language you need. If you plan to enter the Japanese market, let us design your web site in Japanese. If you want to sell your products from Japan to the other countries, it is essential that you have your web site at least in English, and it will be your first access to the world market. Comunica could turn your plan into the reality, so please feel free to contact us and let us know your plan.

Comunica has experience and expertise in the Japanese E-commerce markets. Our clients are doing business in the e-markets such as Rakuten and Yahoo Shop, and Comunica provides the full service for our clients. We do design the web-site for your company, as well as doing the maintenance of your homepage. E-commerce in Japan is a growing retail segment, and this trend is expected to expand more in the future time.


So, if you have a plan and your products, it is good time to open your web-site in Japan. We can consult you and give professional advice by listening what you want.

As a web company, Comunica provides classes to master the usage of computer programs. As we do specialize in web-site construction, we provide the classes such as Photoshop, Illustrator, Flash, Homepage Builder as well as the business packages like Excel, Word and Aceess. Those classes are open for individuals and for companies.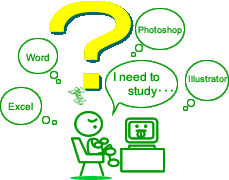 If you are planning to enter the Japanese market for the first time, you need someone to guide you. Comunica can be your first guide to start the business in Japan. Comunica is a web company, however the affiliated company is in retail business as well as in real estate business, and our associated compaies are in various business fileds. So, we can provide you the consulting serive.